KNOMI spol. s r.o.
Company headquarters and billing address
Roztylská 1860/1
148 00 Praha 4 - Chodov
CZECH REPUBLIC - EUROPE
IČ: 46713603 | DIČ: CZ46713603
Společnost zapsaná v obchodním rejstříku vedeném Městským soudem v Praze, oddíl C, vložka 88546
Branch Office Bratříkov
Bratříkov 63
468 21 Bratříkov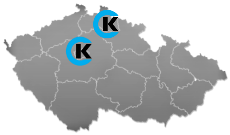 ► Map and Contacts for Branch Offices
► Dealer Network
Utilizing up-to-date equipment is a key concept of Knomi and our equipment includes cutting-edge technology. Using modern machines gives us a competitive advantage and the possibility to produce precise parts in high quality and the possibility of choosing optimal technology for a given process guarantees competitive prices for our customers.
Our equipment includes:
SINGLE-SPINDLE MACHINES
2x Goodway GTS 260 XY
6x Goodway GTS 150 MMX

CNC- Machines with two linear spindles and revolver heads allowing 2 simultaneous operations
5x Gildemeister – Sprint 42 linear

CNC-Machines with FANUC operating system, up to 42 mm diameter of machined part, 25 different tools
DMG Mori Sprint 20 linear

CNC lathe capable of machining small parts precisely
SIX SPINDLE CNC LATHES
6x SAS 6/130
6x SAY 6/42
Gildemeister GMC 35 ISM
6 spindle CNC lathe with Siemens control, for parts of up to 40 mm diameter
Gildemeister GMC 42 ISM

6 spindle CNC lathe with Siemens control, for parts of up to 42 mm diameter 25 tools
5-AXIS MILLING CENTER
DMG Mori DMU 60 EVO

Universal 5 axis milling center; X/Y/Z 600/500/500 mm, up to 400 kgs of load.
CNC Tube bending machine
CNC Machines for tube end-forming
Semi-automatic soldering machine for pipe fittings
To ensure the high quality of our products we use WERTH 3D Scope Check.